Mettalex Community Update | April 2022
Apr 29, 2022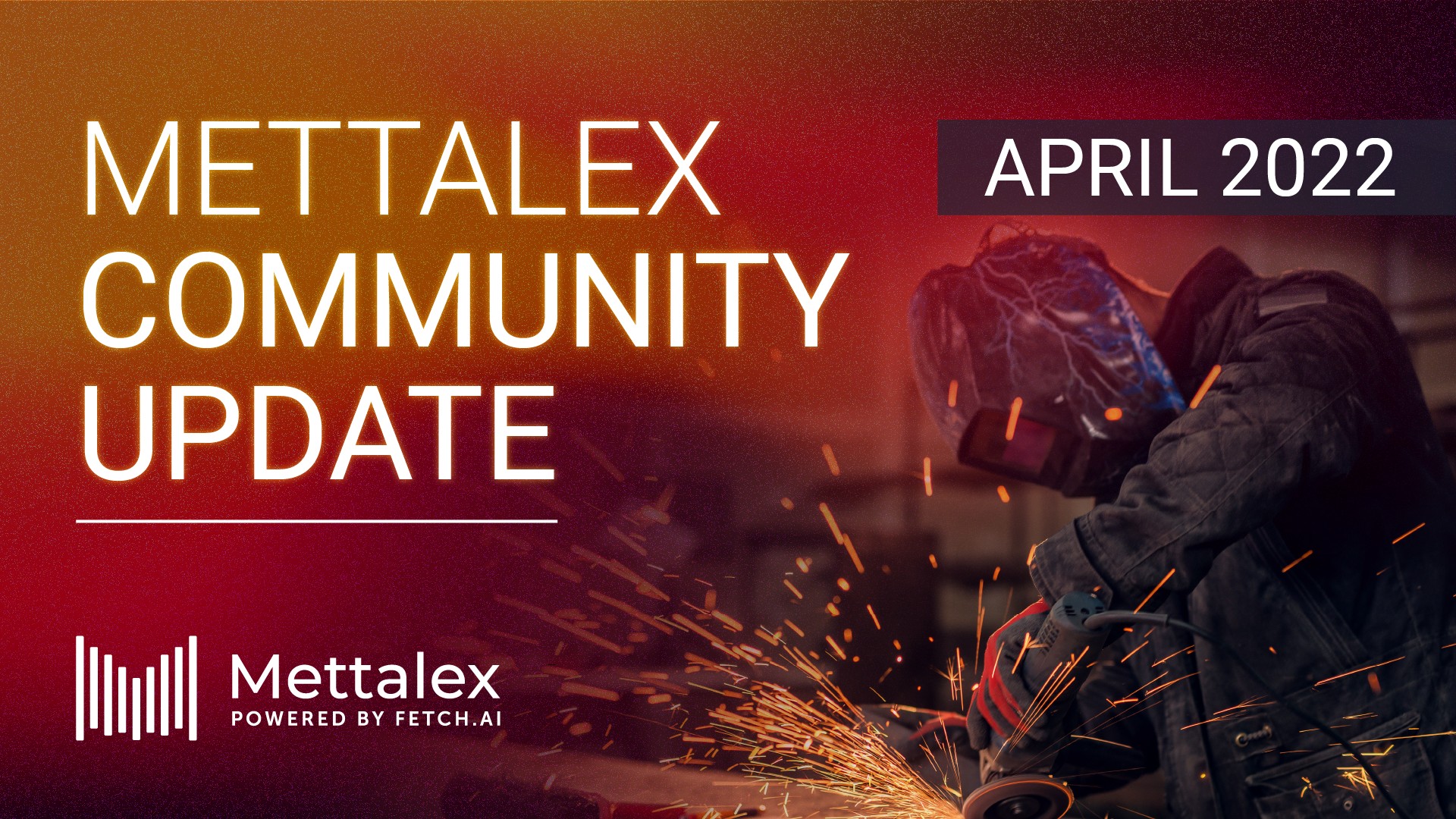 Marketing Updates
Mettalex Tokenomics 2.0 – We recently unveiled our proposal for the next-generation Mattalex tokenomics – an innovative design that incorporates DeFi 2.0 principles to deliver a more sustainable economic model for the Mettalex DEX. With Tokenomics 2.0 we aim to enable more abundant and reliable liquidity sources and to create demand-side pressure on the MTLX governance token. Read the full announcement and make sure to provide feedback.
Mettacast Event Series – The 10th Mettacast episode was dedicated entirely to the Mettalex Tokenomics 2.0 proposal. Mettalex's CTO Matt McDonnell joined the discussion to clarify technical details and answer community questions. You can watch the recording on YouTube.
Meanwhile, we also managed to hold Mettacast 09 with the special participation of Sami Start – CEO of Transak. Together with Vlad they discussed fiat gateways, their role in onboarding users to crypto, and the challenges they face in delivering frictionless on- and off-ramping into DeFi. Sami also shared his views on KYC/AML regulatory requirements DeFi protocols may have to comply with and on self-sovereign identity solutions potentially disrupting and decentralizing the identity verification process. Watch the recording on YouTube.
Mettalex Research Series – True to our initial intention to explore DeFi's latest trends and innovations, our two latest Mettalex Research pieces are focused on ve(3,3) and the hottest topics in the industry ин 2022.
The ve(3,3) piece is dedicated to the state-of-the-art tokenomics design proposed by Andre Cronje. It combines elements native to protocols like OlympusPro, Curve, and Convex Finance. At first glance, ve(3, 3) manages to solve a number of fundamental issues in DeFi by better aligning the incentives for the different types of users. Will it be embraced as the future of tokenomics? Check out the full research in our blog.
We embarked on an exploration of the 8 Hottest Trends that will be determining the outlook of decentralized finance in 2022. The first topic we examined is essential for crypto users of all forms and sizes – regulations. Who in Europe is attempting to regulate DeFi and what legislation is on the way? Read our analysis to find out.
MettaInsights Series – Our latest MettaInsights piece looks into the most popular precious metal and traditional inflation hedge – Gold. The yellow metal commodity appreciated by 14% in 2022 reaching a price of $2050 / troy ounce boosted by a number of factors such as the Russia-Ukraine war and the US Federal Reserve's policies. Read our analysis in the blog to find out where it will go next. And remember – Mettalex DEX enables you to speculate on Gold's correlation with BTC.
Discontinuing Mettalex's Medium Blog – We decided to stop updating Mettalex's blog on Medium since we deem it redundant to maintain two identical blogs. Moreover, our goal has always been to establish Mettalex's website as the one reputable source of information concerning the Mettalex DEX. Find the full announcement here and bookmark Mettalex's website blog.
LinkedIn Newsletter – We have launched a bi-weekly newsletter curated especially for our LinkedIn community as the first two editions have already been sent out. You can check them out or subscribe to receive future ones straight to your mailbox here.
If you are not using LinkedIn, make sure to subscribe to our regular newsletter by going to Mettalex's website Community Page or to Mettalex's Twitter profile.
Mettalex Website Updates – Over the last month, we have been working hard on improving the SEO ranking, relevance, and readability of Mettalex's website and blog. This will be a long-term effort for the team.
Removal of USDO Collateral From the Mettalex DEX – Following USDO's de-pegging and our unsuccessful attempts to receive any information by the OpenDAO team, and in accordance with our March official announcement, we have decided to remove the USDO collateral type from Mettalex DEX. In addition, the DEX markets currently backed by the USDO stablecoin will be disabled. Though, withdrawal of liquidity is still allowed in order to enable liquidity providers to recuperate their funds. We expect this to happen on May 4, 2022.
Development Updates
Apart from the significant amount of research, simulations, and development that our CTO Matt McDonnell has put into the Mettalex Tokenomics 2.0 proposal, over the last month the rest of the dev team has continued their work on UI/UX and performance optimizations. Significant progress has been made in the integration of fiat on- and off-ramping services to the Mettalex DEX. We will share more info soon.
Most of the newly-introduced enhancements will become live with Mettalex's next release at the beginning of May.
UI/UX Refinement:
My Wallet Details on Liquidity Page updated
Trade Button disabled in case a transaction is already underway
Error message for Faucet Transaction Daily Limit updated
Transaction Grid on Faucet on Firefox browser – a bug was identified and fixed
Settled Page route added
Performance Optimization:
Torus Wallet improvements for testnet
Netlify to Firebase migration
Expect the next update in May!